Nyewood CE
Infant School
Smiling, Caring and Learning Together on a Journey with God
Balance Bikes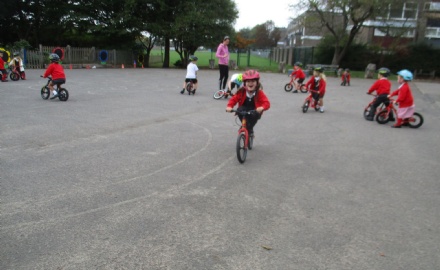 ...And with a blink of an eye, the first half term has finished. I can't quite believe that we have been at school for 7 weeks. The children have settled in so well and made good progress. They love making their own choices on what they want to learn.
This week we have had the fantastic opportunity to experience the balance bikes. The children were so excited and absolutely loved going on them. They have done nothing but talk about them all the time!!
"We were going really fast." Buddy said.
"When we were on the balance bikes we went really fast and there was bumps we went over and then we played a game." said Emelia.
"When I was on the balance bikes I was next to my friend." said Michaela.
"I liked it when we could put our feet on the bit on the bottom." said Olivia.
"We were going fast on the bikes." said Elijah.
"I liked going on them." said Marley.
"We was having so much fun and we loved going on the balance bikes." said Emelia.
This week has also been parents evening. Thank you so much for everyone who came. It was lovely to chat to you and learn more about your families.