Nyewood CE
Infant School
Smiling, Caring and Learning Together on a Journey with God
Creation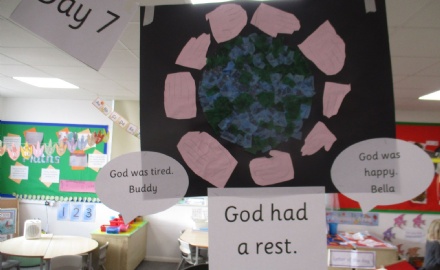 "I like looking at it. It makes me feel like God." said Buddy.
"Some water and grass." said Mihail.
"I like God's creations." said Dario.
"I like it that God grows plants." said Miles.
"I would like God to make the park on the next day." said Luca.
"I liked making the people. One is called Eve and Adam." said Marley.
"It's so pretty." said Eli.
"We made it all together, and shared it and then we put our hands on it and drawed it." said Emeilia.
We made God's Creations. We thought about our world and how we want to look after it because God made it for us.
The children have really enjoyed learning about what God made and thinking about what he could make next.