Nyewood CE
Infant School
Smiling, Caring and Learning Together on a Journey with God
Repeating Patterns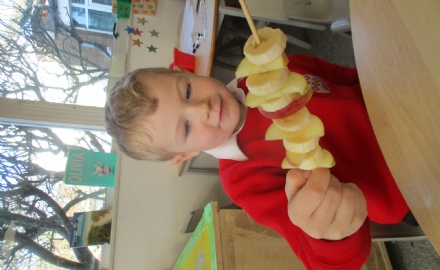 Blink and another week has flown by. The children have been really busy in their learning time, making good choices and working hard. I am especially pleased with the independent writing from Willow Class. So many children can hear and write their sounds independently and some are writing sentences. I'm so proud of them.
This week we have also been learning about repeating patterns. The children have loved making fruit kebabs and made sure the fruit was in a repeating pattern!!
"We put them in a pattern." said Olivia.
"We put them on a stick." said Megan.
"We can eat it from the stick." said Mihail.
"They was yummy." said Bella.
"We used grapes, bananas, oranges, apples. They were healthy." said Marley.
"On my stick, I had grapes, oranges and apples." said Eli.
"I had apples and pears on my one." said Buddy.
We also talked about healthy eating and what we like to eat that is healthy.