Nyewood CE
Infant School
Smiling, Caring and Learning Together on a Journey with God
Spring Walk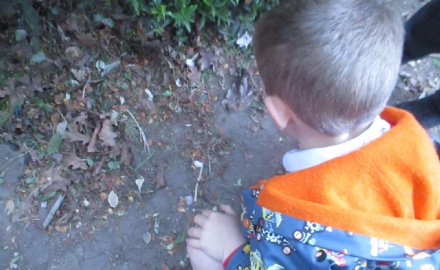 I wonder what we will find...
The children loved the Spring Walk this week. I was amazed at what they found just outside our classroom window!
"We found a baby ladybird." said Bella.
"We saw a worm trying to find a home." said Buddy.
"We see ant in a tree climbing." said Michail.
"We sawd woodlice." said Elijah.
"We got on the floor, the ant." said Emilia.
"The ant was finding a home." said Eli.
"We saw a spider web." said Marianne.
"The worm was moving through the leaves and stuff." said Barnaby.
"We saw Bluebells." said Michaela.
"We saw some blossom on the trees." said Rachel.
"There were loads of ants." said Olivia.
"I saw a big spider." said Luca.
"The ants were climbing on the ant to eat it. They were doing team work." said Marley.
Since our Spring Walk, the children have been so interested in Minibeasts. They have been looking in non-fiction books, reading facts and asking questions. We have learnt to search the internet for lots of facts and information which the children have loved. They have amazed us by their questions and just being so keen to find out more.