Nyewood CE
Infant School
Smiling, Caring and Learning Together on a Journey with God
iPads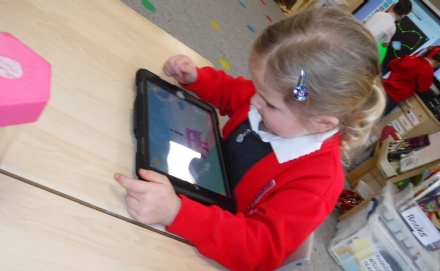 The children have loved exploring the iPads this week. Their skills at being able to access games, show me what they have learnt and teaching their friends has been amazing. Also, we talked about what we do at home on ipads and tablets.
"I was playing Alphablocks." said Holly.
"I was sharing the tablet." said Maci.
"At home I play Lego on my tablet and you get to make things to put the Lego man in." said Zac.
"I share my tablet with my baby brother called Jack." said Charlie.
"I played the game where you need to match the alien." said Beau.
"When the timer is up, you let another person have a go." said Edward.
"On the iPad I played the piano and its' the one where you can change the piano." said Lincoln.
"I was watching Number blocks on the iPad." said Naimah.
"If you get a game up, if you went on a game. It has numbers, big ones. You have to colour them in, and you can change the colour." said Grace.
"I shared the tablet with Isabella." said Clara.