Nyewood CE
Infant School
Smiling, Caring and Learning Together on a Journey with God
Cherry Class Blog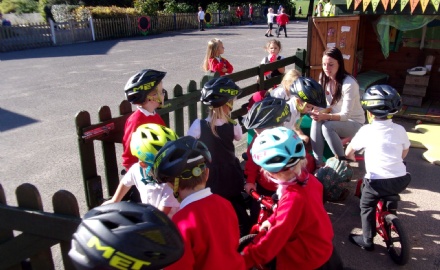 We can't believe that we have already reached the end of our first half-term and have been in school for seven weeks.
The most popular activity this week has been the balance bikes. We have been lucky to have people visit us with the bikes and take the children for biking sessions on the big playground. The children have enjoyed the sessions so much that we are thinking about how we could do some fundraising to buy some of our own balance bikes.
In class we have been counting up to ten everyday objects, listening for the initial sound in words and starting to write some letters: s, a, t. We have also been talking about what we do outside of school, sticking to a main theme and sharing our news with the class.
At our Attendance assembly this morning we found out that Cherry class have the best attendance of all the classes this half-term. If we can keep this up we are in line for a class prize at the end of term. If the children win they will be able to choose their prize which could be a pizza party or a bouncy castle. So - keep up the great work and let's see if we can keep our record of being the best attenders at Nyewood CE Infant School.