Nyewood CE
Infant School
Smiling, Caring and Learning Together on a Journey with God
Cherry Class Blog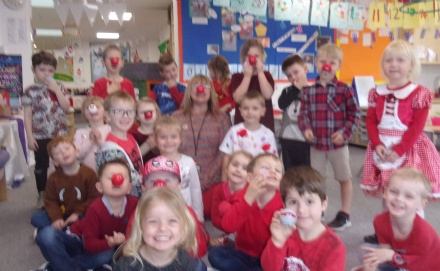 We had a lot of fun on Red Nose Day last Friday and the children really enjoyed telling each other their jokes. The class voted that Skyla's joke was the winner and, as well as telling us, she told the whole school her joke at our Red Nose Worship assembly; "What flies in the air and wobbles? A jellycopter."
In maths this week we have been learning "one less and more," Izabel told us. Kai knew that one less than twenty is "nineteen."
Cass told us , "Ive been doing drawing about Minecraft and a little bit of writing.
"I've been dressing up as Spiderman and playing a game spinning webs with my friends," said Oakley
"I done a model with Beatrice. We made a box," said Szymon. Beatrice added; "It was colourful."