Nyewood CE
Infant School
Smiling, Caring and Learning Together on a Journey with God
Cherry Class Blog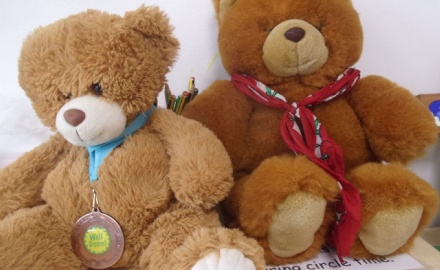 Great news this week - Cherry class were top of the leader board for attendance last week. This means we get to look after Hero Bear for the week - you can see the picture of Hero Bear keeping Cherry Bear company. We are doing really well in our attendance record - this is the second time this term we have won. Keep it up! Who knows, we may win the prize for best attenders this term.
Our sound of the week is 'n'. We have also been listening to see if we can hear and say the sounds at the beginning of words. Amelie told us that pan starts with a 'p' sound. Blossom told us that cat starts with a 'c' sound.
Our number of the week is 5. We have also been counting out objects and seeing if we can match them to the correct number.
Our Year 1s have been talking about and exploring some of the technology they use in their everyday lives at home and school.