Nyewood CE
Infant School
Smiling, Caring and Learning Together on a Journey with God
Cherry Class Blog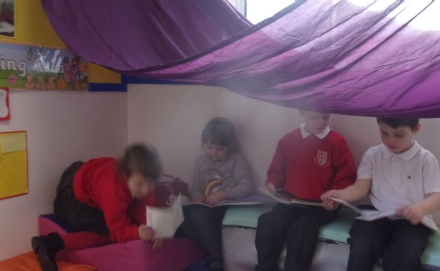 This week we've re-vamped our reading corner and are using it as a quiet place where we can go to read, do some phonics or maybe draw a picture and do some writing about the book we are reading.
In Maths this week we have been using the language of more and fewer to compare different amounts and groups of objects. 'It's fewer,' said Grace talking about one pot with 6 all sorts in compared to another with 10.
In Literacy, as well as all the reading we have been doing, we have been combining words to write captions, labels and sentences.