Nyewood CE
Infant School
Smiling, Caring and Learning Together on a Journey with God
Cherry Class Blog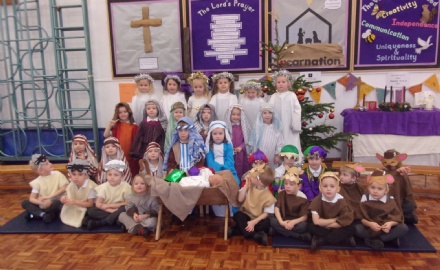 Yet another very hectic week in Cherry Class. The children put on a fantastic Nativity on Friday, singing and acting out the Christmas Story for their grown-ups . As well as rehearsing for our Nativity we've been busy getting ready for Christmas, making snowflakes, lanterns and finishing off our Christmas cards.
In Maths we've continued to write numbers and match them with the correct amount of coloured circles. In Literacy we have continued reading simple words - sounding them out and trying to write the sounds we hear.
From all in Cherry Class we hope you have a brilliant Christmas and we look forward to the coming New Year.
Happy Christmas!