Nyewood CE
Infant School
Smiling, Caring and Learning Together on a Journey with God
Cherry Class Blog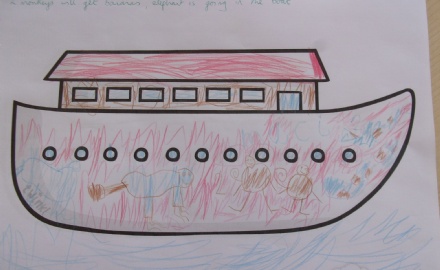 This week we have been continuing our exploration of the story of Noah's Ark. We have been re-telling, re-enacting, drawing and writing about the story. "Two monkeys are going on the boat," "The doves are going to get a tree."
We have also continued measuring during our independent learning time, using cubes, rulers and string to measure objects in and around our classroom..
On Friday we celebrated the Chinese New Year - We made Chinese lanterns and, in PE, we created our own lion dance, complete with drums. We also acted out the Chinese story about how the Chinese years were named - following the animal race across the river ordered by the Jade Emperor.