Nyewood CE
Infant School
Smiling, Caring and Learning Together on a Journey with God
This week in Oak Class...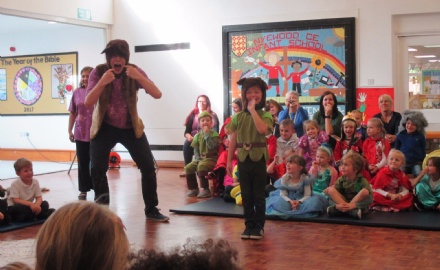 We have had a very exciting week in Oak Class. On Wednesday, the Rainbow Theatre group came into school and acted out 4 well known, favourite fairy tales. Have a look at our photos - can you guess which stories they were? Some of us even played the characters in the story and acted alongside the professionals!
There was trouble on Thursday! We came back from lunchtime play to find what can only be described as a mysterious crime scene. Someone with very large feet had been leaving footprints all over our playground. Not only that, but there were also several big, green leaves, golden beans and a table with a broken chair. Through investigating this area further, we discovered a letter from a boy named Jack. He claimed to have climbed a very tall beanstalk in his garden and finding a large, scary person at the top! Can you imagine...?