Nyewood CE
Infant School
Smiling, Caring and Learning Together on a Journey with God
Meet the Author!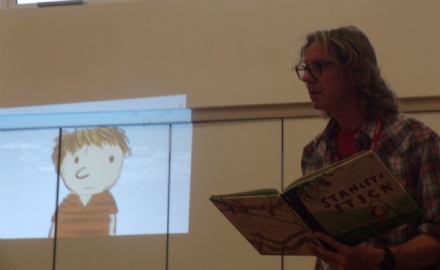 On Monday we were lucky enough to be visited by the author and illustrator Neal Layton. He read the book Stanley's Stick and showed us how he drew him. It was amazing!
In the book, Stanley imagines that his stick is lots of different things, like a banana, a fishing rod, a torch, a dinosaur and lots more! We all went and collect our own sticks and then we decorated them to make them into different things. We made, magic wands, hammers, fishing rods, monsters and lots more.
We had great fun in dance. We were learning a dance warm-up in beats of 8 to the song 'Another One Bites the Dust'. How much of the dance can you remember?
In RE went outside and explored God's wonderful world. We looked and talked about all of the beautiful things that God has created.