Nyewood CE
Infant School
Smiling, Caring and Learning Together on a Journey with God
Pulse, prediction and place value...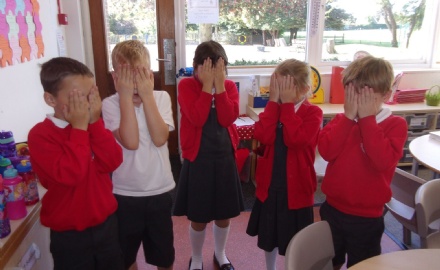 We have had a very busy week of learning in our second week of Year 2.
In English this week we have been focusing on full stops and capital letters. We have been editing pieces of writing to make sure the punctuation is in the correct places. We even challenged each other by writing a piece of text, with missing punctuation, for a partner to check and edit.
In Guided Reading we have been focusing on prediction. We thought lots about clues and how the clues help us to come to a conclusion. We looked at riddles and thought about which bits of information led us to the answer and then used these to help us write our own. We had lots of fun predicting and guessing what each others' riddles were about!
In Mathematics we have continued our learning about place value. Mr. Croc came to visit and help us with our Mathematics on Wednesday when we learnt about more than and less than signs. We did a great job of making sure he always ate the bigger numbers!
Wednesday was also exciting because we had our first lesson of Music in Year 2. 'Get Into Music' came in to school and taught us all about the pulse of music. We had to think of different ways to move to the music depending on its beat and pace. We also learnt a new song which we had fun singing.
In RE we continued our learning about the Creation Story. We thought of two key words per day and used these to help us create some drama. We retold the story in groups and performed to the rest of the class.
It has been a fun and busy week and we are excited for the weeks ahead.
Check our blog next week to find out about our Harvest celebration!