Nyewood CE
Infant School
Smiling, Caring and Learning Together on a Journey with God
Getting creative!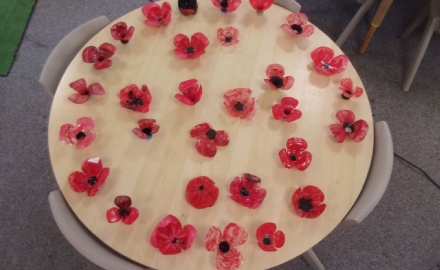 This week has been a very creative week, using our imaginations and developing our artistic skills.
In English this week we used our visualising skills to help us create images and models. We listened to the first few pages of The Tin Forest, without looking at any of the pictures. We then used pastels to create an image of what we imagined in our heads. We thought carefully about the words: wild, colourful, tropical and exotic. Next time you are in Hazel Class, take a look at our beautiful creations. We continued this learning on Tuesday by developing both our role play area and tough tray. We used various different silver materials to create models and sculptures that resembled a tin forest. We love using our new environments to help us re-tell the story.
In Mathematics we have been learning about patterns. We made patterns with different shapes, colours and images. We even solved reasoning questions such as: If a pattern goes red blue, pink, red, blue, pink. What will the 12th term be? Can you see any patterns while you are out and about?
We also learnt about remembrance day this week and discussed how art work is used to celebrate and promote different things. We all used recycled plastic bottles to create sculptures of poppies to celebrate as a school. Keep your eyes peeled for a display coming soon.
We have loved our artistic learning and cannot wait to continue to learn about The Tin Forest!