Nyewood CE
Infant School
Smiling, Caring and Learning Together on a Journey with God
Jesus' Christmas Party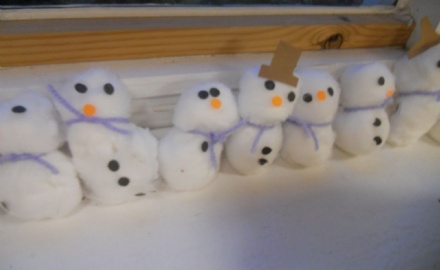 This week has been filled with singing and snowmen.
This morning we had our Christmas Worship. This year we performed Jesus' Christmas party, we really loved showing all the adults that came to see us and we had a great time singing new and fun songs.
Our class favourite is 'Having a Party'; see if we can sing this to you at home!
This week our English focus has been looking at instructions and the features they include. This is ready to help us with our own writing next week. We will be writing instructions on how to build a snowman. To help us think about each step we made our very own snowman, using cotton wool, wool, glue and paper. We think they look very cute and cannot wait to bring them home!
In Mathematics we have been learning about different types of measurement and can now confidently use the terms: length, height, metres, centimetres, grams and kilograms. We also used 'more than' and 'less than' signs to compare different measurements.
We are getting very excited for Christmas and our class advent calendar has helped us with the countdown....only 11 days to go!!
Just a couple of reminders:
*Make sure you have been online to apply for your child's transition to a Junior School for 2019. The deadline for this is 15th January 2019 and you will need to do this by going online to West Sussex Admissions. It is important that you do this, even if you already have a child at your chosen school.
*On Wednesday the 19th December you can come to school in your Christmas jumpers. This will also be the last day of term.