Nyewood CE
Infant School
Smiling, Caring and Learning Together on a Journey with God
Adjectives, adjectives, adjectives!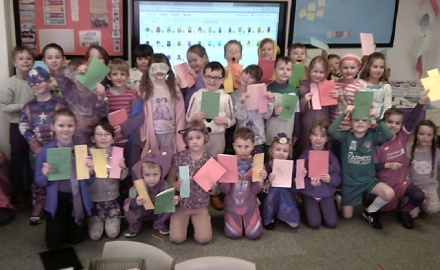 What a busy week it has been!
We started the week by learning how to tell the time in Mathematics. We looked carefully at the clock hands and used our five times table to help us read o'clock, half past, quarter past and quarter to the hour. We are getting really good at this and next week we will be learning to tell the time to the nearest five minutes. See if we can tell you the time at home!
We loved Wednesday as we came to school dressed as an adjective, we had some very imaginative ideas in Hazel Class....
Sleepy, brave, strong, fluffy, courageous and perfect!
We used all of these adjectives to help us become authors and write our very own books. We spent all day working hard on these stories and then shared these with the rest of the school in a worship in the afternoon.
In PSHE we talked about how it was important that everyone is treated equally. We thought about all of the things that make us different to each other and how we should celebrate our differences. We used all of our discussions to make posters to promote equality.
Reminder- Friday 15th March is our school trip to Tangmere Aviation Museum. We will leave school promptly at 9:30. Please wrap up warm as it is a little chilly inside the warehouse.