Nyewood CE
Infant School
Smiling, Caring and Learning Together on a Journey with God
Our V-high-P visitors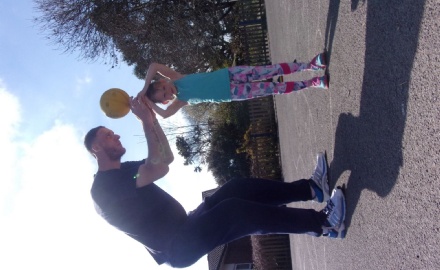 We were very lucky to get to meet 2 very important and exciting people this week!
On Thursday we had our diversity and well being day at school. We began the day by meeting Paul Sturgess who has a Guinness World Record for the tallest professional basketball player. He told us all about his life and showed us some exciting videos of him playing basketball all around the world. He then took us outside and taught us some basketball skills and tricks.
Also on Thursday we took part in some relaxing yoga, mindfulness artwork and made fruit wraps alongside Chartwells, who taught us all about healthy eating and a balanced diet.
On Friday it was our Year 2 Fantastic Finish. We spent the morning being creative by baking cakes, making sandwiches and designing flags and bunting. This was all ready for an exciting afternoon tea with the Queen. We met her majesty and she sat alongside us while we dug into our delicious treats.
After our important visitor left, some parents joined us to complete a treasure hunt. We searched around the playground for clues and facts about our all aboard topic. We really enjoyed working alongside our adults and sharing our learning!