Nyewood CE
Infant School
Smiling, Caring and Learning Together on a Journey with God
Let the magic begin...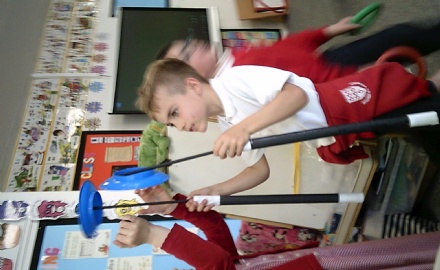 We were all very excited to come back to school on Tuesday. We had lots to talk about and share.
On Tuesday when we came back to school a circus tent had arrived in our classroom filled with lots of magical items - wand, feather, lamp, cards and sparkles. We read a story called 'Leon and the Place Between', which is our focus text this term. We really enjoyed the story and got really excited by the busy pictures.
After reading the story we created our own 'ideas books' where we will, and have begun, recording words and phrases we like and may use in our writing.
We have been using our circus tent to help us get into role and have been learning some magic tricks and circus skills including juggling, hoola hooping and spinning plates. These actions will help us in PE as we are going to choreograph our own dance to the Greatest Showman music.
In Computing this week we had lots of fun playing a version of snakes and ladders where we had to respond to something somebody was dong online. If we thought the thing they were doing was good then we could go up a ladder but if they were doing something which was not safe we had to slide our counter down the snake. We really enjoyed this game and learnt more about how to be safe when on the internet at home or at school.
We are getting really excited as, on Monday, a magician is coming to school to perform for us!!
Note: Hazel class have PE on a Monday and Wednesday this term.