Nyewood CE
Infant School
Smiling, Caring and Learning Together on a Journey with God
Puppets And Patterns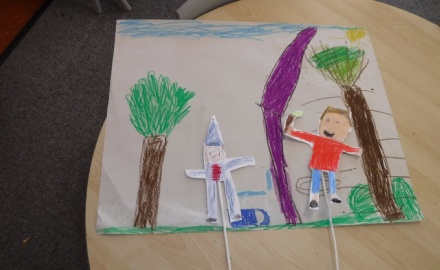 This week in writing we have continued to learn about Stanley's Stick. We worked together in groups to make backgrounds and puppets to help us retell the story.
In maths on Wednesday we did problem solving. We had 4 coloured counters and had to identify how many different patters we could make by ordering them in different ways. We really enjoyed this challenge and did a great job of recording it in our books.
In RE we went outside to explore and identify all the different things in our school grounds that God created for us. We then retold the creation story in a way of our choice, some of us made books, story maps and others of us used small world figures.
In PE we were learning about how to hear the 8 beats in a song and how to move our bodies to match the beat. This week we used the song 'Another One Bites the Dust'.