Nyewood CE
Infant School
Smiling, Caring and Learning Together on a Journey with God
Nature Necklaces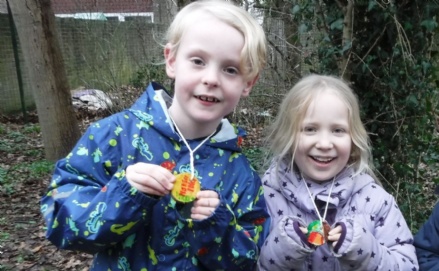 This week in Hazel we were very excited to have another outdoor learning session!
In outdoor learning this week we got to learn a new skill. We had to use a saw alongside a teacher to cut a branch into discs. We then drilled a hole into our disc and threaded a piece of string through to create a necklace. We carefully looked around the conservation area and drew the patterns and colours we could see onto our necklace to make them decorative.
In PE this week we started to put together a sequence of moves to create a space dance. We listened carefully to the sounds and thought about how we could move in time with the beat of the song.
In writing, we have been looking at different types of sentences and playing games to help us learn the difference. We have learnt about statements, commands, questions and exclamatory sentences. See if we can tell you what these are!
On Monday 27th January we will be holding our Star Gazing event at school. It will be from 5:15-5:45. We are hoping to see lots of you there!