Nyewood CE
Infant School
Smiling, Caring and Learning Together on a Journey with God
Fruit kebabs and more!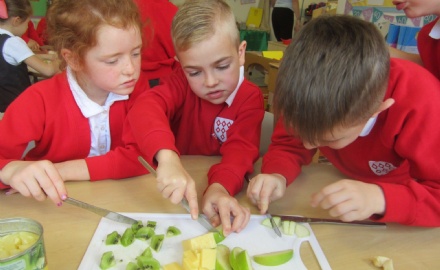 In DT we made fruit kebabs. We talked about how fruit can help to keep us healthy. We also evaluated our kebabs. We talked about what we liked about them and things we would change next time.
Which fruit was your favourite? Why?
In Mathematics we have been working on our multiplication and division skills. We have been solving word problems by sharing and grouping different amounts. For dividing, we shared chocolate chips over cookies to find the answer.
In English we were planning our own stories base on 'Who's Afraid of the Big Bad Book'. We started writing these and tried hard to remember our neat handwriting, capital letters and full stops.
In RE we started to retell the story of Creation. We thought of our own way of showing our learning...
In gymnastics we used some more different equipment. We thought about different ways we could slide. Then we watched our partners balance, slide and jump. We said what we liked about this.