Nyewood CE
Infant School
Smiling, Caring and Learning Together on a Journey with God
Ice-cream Parlours and Pumpkin Soup!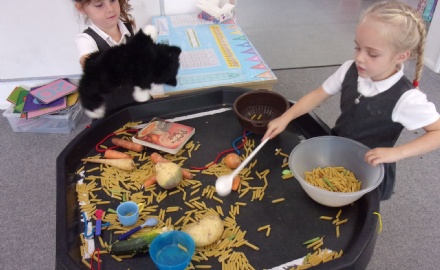 We have really enjoyed making an ice-cream parlour in class this week. The children took on full ownership of this. They asked for photos of ice-creams, made their own price tags and as the week went on, they even made their own flavoured cones using junk modelling!
"We need money." suggested Abby.
"This one is banana flavour. It costs loads of money." said Tilly
"Can you help me write 4p?" asked Bella.
"You shouldn't eat too much 'coz it's full of sugar." warned Barney.
Also this week we have enjoyed our Harvest Text 'Pumpkin Soup'. The children love listening to the story and have begun to act out their own versions of it in our Tuff Tray. Later in the week they asked to make the old white cabin and began to take on the roles and actions of each character.