Nyewood CE
Infant School
Smiling, Caring and Learning Together on a Journey with God
Autumn is Here!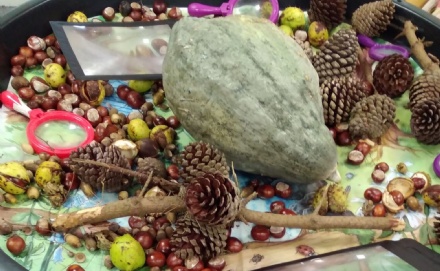 This week the children have been exploring our 'Autumnal Tuff Tray'. We have enjoyed using our senses, as well as magnifying glasses, to look closely at natural objects such as conkers, acorns, fir cones, leaves and a Hubbard Pumpkin. Later in the week we cut the green pumpkin up to reveal the bright orange centre. Here are some of our observations:
"It feels like grass." said Lottie.
"It feels soft." added Abby.
"It looks like an orange." suggested Lebo.
"It's soooo cool! It's green on the outside, orange on the inside and the seeds are white!" Arthur said excitedly.
"I think it's like mango. It's slippery and it slips out of your hands." Alfie said.
"It has white seeds and they are sticky. They feeled like grassy stuff." Esther commented.