Nyewood CE
Infant School
Smiling, Caring and Learning Together on a Journey with God
Gliding into Half-Term!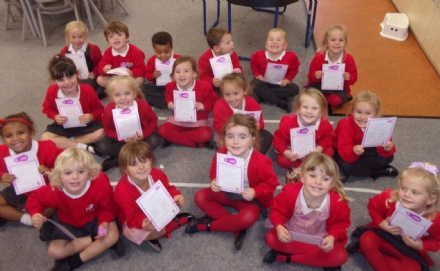 Wow! Not only has our first half term as part of the Holly Family gone by in a flash, but we have also been rocketing around the playground at lightning speed with the instructors from BikeAbility!
We have thoroughly enjoyed our two sessions learning how to push, glide and stop using the balance bikes and have had great fun taking part in space awareness games with them. Some of us were not too sure at first but thanks to our work on Growth Mindset we found the courage to take part and all came back to class beaming with pride at our success!
Also this week we have been learning a new funky version of the Alphabet Song and thinking about how to count objects accurately by saying a number as we touch each one.
This week also saw us say a sad goodbye to one of our Holly children. All of us would like to wish Tilly good luck as she heads off to her new school. She will be very much missed by all.
Mrs Smart and Mrs Walker would like to thank all those that attended parents evening. It was lovely to see so many faces and celebrate the achievements of your wonderful children.