Nyewood CE
Infant School
Smiling, Caring and Learning Together on a Journey with God
We WILL Remember Them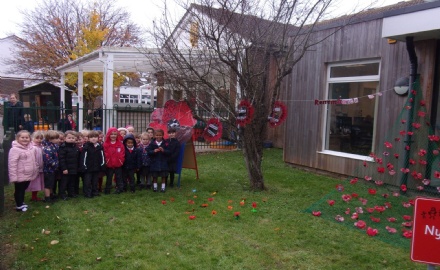 Here we are standing by our school Remembrance Day Memorial. In Early Years we each drew around and cut out our handprint to create a class poppy wreath which we hung from the tree at the front of our school. As a Nyewood Family we gathered around this memorial at 11am and said a prayer before taking part in a minute's silence. All of our Holly children were exceptionally well behaved during this time. Well done Holly Class!
We have had such a busy fortnight in Early Years! Last Friday we took part in the sponsored bounce to raise money for new equipment.
"We standed up and had to do as many bounces and jumps as we could." explained Oscar.
"I got 8 and a 4 (84) jumps." said Betsy.
"It was really bobbling and I did fall over. I did 18 jumps." recalled Jess.
Thank you to all those who donated. The total amount of money raised will be announced very soon!
This week we also thought about Bonfire Night and created firework pictures using a range of techniques. Why not pop into class on Tuesday morning 9-9:15 to see our artwork on our new Bonfire display. The children chose to create a den for all the night animals to hide in and keep warm.
"I put some food in there to eat." said Isla.
"We made a fire and used blankets to keep us very warm." explained Esther.
Also this week we learnt a bit about the Hindu festival of light called Diwali. We explored making Rangoli patterns, diva lamps and Henna hand tattoos.