Nyewood CE
Infant School
Smiling, Caring and Learning Together on a Journey with God
Children in Need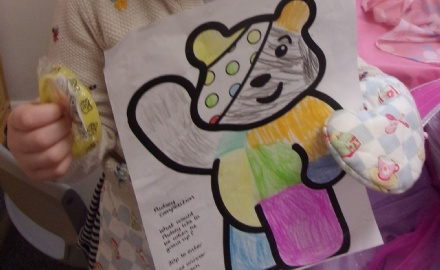 It was fantastic to see so much time and thought put into the children's costumes this Friday as they dressed up as what they wanted to be when they grow up. We had explorers, vets, teachers and a magician to name but a few. Well done parents too, for your efforts in gathering these costumes together. We were very proud of our classmate Isla who won the 'Design an Outfit for Pudsey' Competition. Well done!
Also this week we participated in the first of our three Creative Afternoons. The children chose what activity they would like to take part in and then spent the afternoon with other members of the Nyewood Family making sculptures out of junk/clay, sewing, knitting, baking, dancing or painting. We hope those of you who got to take home the handmade pizzas enjoyed them.
As well as all this fun, we have been learning the names of 3D shapes and using mathematical words to describe their properties e.g. sides, faces, curved, straight, flat.
We have also been busy creating our class cafe with some fantastic writing from our children who helped to make signs to show what was on sale.