Nyewood CE
Infant School
Smiling, Caring and Learning Together on a Journey with God
Shape Spotting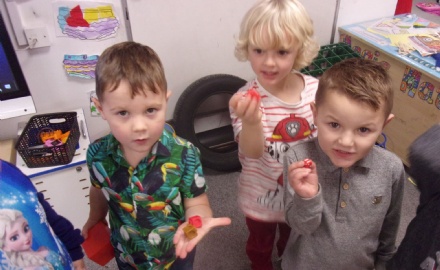 In Maths this week we have been continuing our learning on shape. We have been using everything we have learnt about the properties of 2D and 3D shapes to help us identify shapes in everyday objects.
"This tin is a cylinder shape." explained Esther.
Some of us chose to make our own shape finders and then used these to help us spot that particular shape in the classroom.
"I enjoyed cutting the circle out and looking for the shape." Jess commented.
In Literacy we have been really thinking hard about the sounds in the words we want to write. We have been saying the word aloud and listening carefully to hear the sounds in the correct order.
In other news...
We have been thinking about what helps us to stay healthy such as diet, exercise, hygiene and sleep. We have created our own assault course and thought of ways to make it more challenging. This week we have also started learning the songs for our Christmas Worship. We hope you can join us on Monday 10th December 9.30am.