Nyewood CE
Infant School
Smiling, Caring and Learning Together on a Journey with God
Our First Ever School Trip!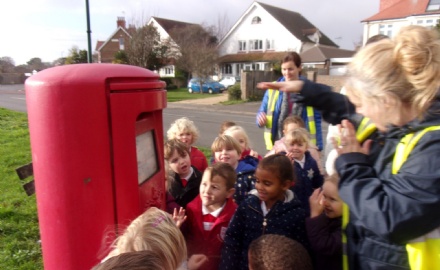 This week we went on our very first school trip to post our letters to Father Christmas in the postbox on Hawthorn Road. We are keeping our fingers crossed that Father Christmas gets our letters and replies very soon....if he has time!
This week the childrn have also enjoyed...
"Learning the story of baby Jesus." said Lebo.
"Making a Christmas Memory Box." added Abigail.
"Making angel wings to fly up to Jesus." commented Darci.
"I writed my name all by myself." beamed Arthur.
It was fabulous to see so many of you on Friday afternoon when we came together to share the children's learning from this term.
Those families that came, also got a little preview of our "Three Kings, Three Camels" song which we are looking forward to performing in our Christmas Worship next week.
"I'm proud of Jessica's writing to Father Christmas. She remembered to get her letter 's' the right way round too." commented Jessica's Grandad.
We are looking forward to another week of Christmassy learning and experiences next week with our Worship on Monday and the Carol Service on Wednesday evening. Come and join us and get in the Christmas spirit!