Nyewood CE
Infant School
Smiling, Caring and Learning Together on a Journey with God
We're Going on a Bear Hunt!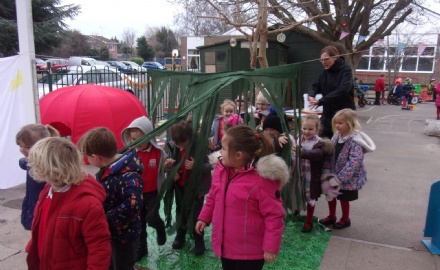 We have thoroughly enjoyed our fortnight reading "We're Going on a Bear Hunt". We have become fully immersed in the story; acting it out using small objects, drawing story maps, making stick puppets of the characters and using the outside area to create an obstacle course. Here we are retelling the story...
"We're going on a bear hunt." said Lena.
"We're going to catch a big one. What a beautiful day! We're not scared" said Esther.
"Uh oh! Grass! Long wavy grass...Swishy swashy, swishy swashy."
"Uh oh!" A River! A deep, cold river... Splosh, splash, splosh, splash." said Lebo.
"Uh oh! Mud! Thick oozy mud.... Squelch, Sqwerch, squelch, sqwerch!"
"Uh oh! A forest! A tall dark forest....Stumble, trip, stumble, trip."
"Uh oh! A snowstorm! A swirling whirling snowstorm....Whooo, whooo!" said Alfie.
Also this week, we visited West Meads Post Office and each bought a stamp for our thank you letters which we hope you have now received. Thank you to all the parent helpers who came with us and kept us safe during this trip.
Back at school we continued our work with money by hunting for, identifying and counting coins, as well as using them in our role-play post office and fruit and vegetable shop.