Nyewood CE
Infant School
Smiling, Caring and Learning Together on a Journey with God
Gingerbread Man or Snow Man?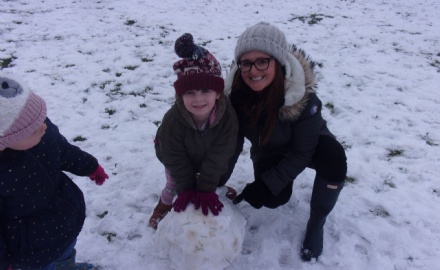 This week we continued our learning about "The Gingerbread Man" story by baking our own gingerbread men.
"We put in flour and Mrs McCormack taught us how to knead it" explained Esther.
"We put in egg and ginger and added raisin buttons" continued Edward.
"It tasted good and crunchy" Abigail commented.
Also this week...
"We have been estimating. We put Rice Crispies and rice and pasta into pots" recalled Alfie.
"We tried to see how many of the little containers filled the big one" Amber said. " It was 5."
"We've been reading owl words" said Betsy.
An owl word is a word that cannot be sounded out. You just have to look at the shape of the word and letter order and remember what the word is. Examples are 'the, to, go, no, into, we, she.'
What better way to end the week than with a Snow Day in school!?
We have had a fabulous day exploring the snow, making snowballs and snow angels, and taking part in the Nyewood Snowman Building competition!
"The ice was so slippy. The snow was fluffy" said Darci.
"It was snowy because it was really, really cold" explained Barney.