Nyewood CE
Infant School
Smiling, Caring and Learning Together on a Journey with God
新年快乐 Happy Chinese New Year!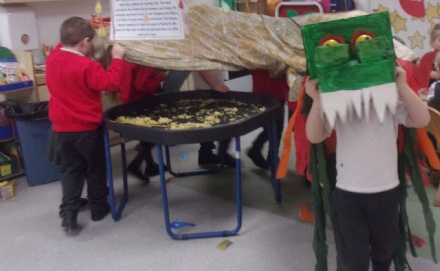 What a fantastic time we had exploring how Chinese New Year is celebrated. We started by watching some video clips on CBeebies about the story of the animals and how the Chinese Zodiac was formed.
"It's the year of the pig. We had a story" said Edward.
"The animals had a race" Amber recalled.
We also saw how dragons are important to Chinese people and we worked together to create our very own dragon which we then used to perform a dance with.
Throughout the day we took part in different activities such as making dragon puppets, writing Happy New Year cards and making Chinese lanterns.
At the end of the day we came back together to celebrate everything we had learnt.
"We ate Chinese food it was rice noodles and prawn crackers" said Esther.
"I didn't like it" Lebo exclaimed.