Nyewood CE
Infant School
Smiling, Caring and Learning Together on a Journey with God
Love is in the Air!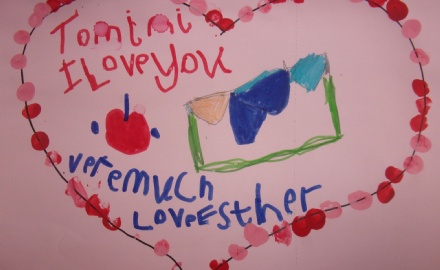 This week in Holly Class we have been learning about Valentine's Day and why grown-ups celebrate it. Some of us were lucky enough to receive our own gifts.
"My Dad gived me this rosey. He said he loves me" Betsy said showing us her beautiful red rose.
"I was putting the rubbish out and just found this card and balloon by my bin! I don't know who it's from though" Amber said excitedly.
Some of us decided to write our own Valentine's messages to the people we love. We decorated them using the technique of finger painting.
In maths this week we have been learning to combine two groups of objects and count them altogether to find the total. We chose our own ways of doing this.
Abby, Arthur, Bella, Darci and Lebo combined groups of coins in their supermarket role-play.
"I have been added multi-link together" recalled Barney.
Some of us kept with the love theme and worked out the answer to addition sentences using bricks or our fingers.