Nyewood CE
Infant School
Smiling, Caring and Learning Together on a Journey with God
Half Way Through Year R!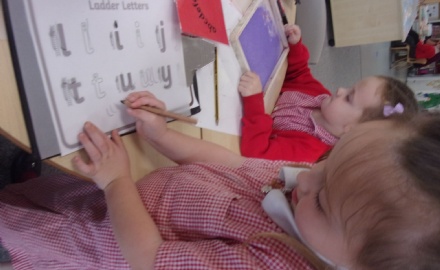 It is incredible to think that we are already half way through the school year! The children have come back fantastically after half term ready to learn and have worked so hard this week!
In Maths we have been using apparatus to help us solve addition problems.
"I put blocks in hoops and I counted them in the hoops. I had 6 in one hoop and then 7,8,9,10 in another hoop." explained Isla.
In worship this week, we have been thinking about all of the things we are lucky enough to have.
"We thought about being thankful. I said thank you for the daffodils because my birthday is near when the daffodils come out." said Esther.
In Literacy we have been working really hard to make sure we write our letters correctly by starting in the right place and moving our pencil in the correct direction.
"We was learning our letters and how to write them properly in our name." explained Betsy.
This week we also had a fantastic Gymnastics lesson where we learnt how to put out the mats correctly using the phrase "1,2,3 lift and 1,2,3 down." Mrs Smart was really impressed with how we worked together to put the mats out safely. In our lesson we explored different ways to travel, followed by interesting ways to balance.