Nyewood CE
Infant School
Smiling, Caring and Learning Together on a Journey with God
Ahoy Me Hearties!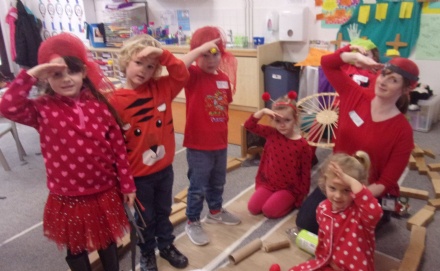 This week we have set sail through the sea of learning on HMS Holly, our trusty ship! Edward and Barney came up with the idea of building a pirate ship and the Holly family worked brilliantly as a team to make it evolve into a fantastic learning opportunity!
We went to the school library to find out more about life as a pirate.
From our research we went on to make treasure maps, eye patches, telescopes, skull and cross bones flags, decking, a crow's nest, a ship's wheel and much more!
We gave each other crew names such as Pirate Pete, Captain Shark, Pirate Red Hair and wrote labels so that we knew who each other were.
"Arrrr! I'm Pirate Pete! A good pirate!" growled Barney in his best pirate voice!
"Aye, aye Captain!" saluted Pirate Yellow Scarf.
We used our plastic coins as treasure which we counted and recounted to make sure no skirmy sailors had stolen any!
Who knows what adventures await us next week!