Nyewood CE
Infant School
Smiling, Caring and Learning Together on a Journey with God
Celebrating our uniqueness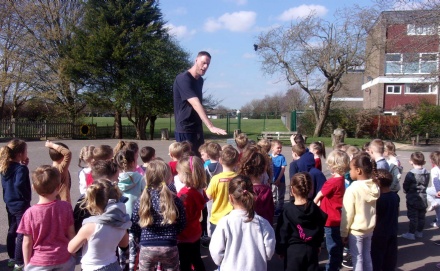 This week we have been celebrating how different and special we all are. On Monday it was really lovely to see so many families come in to enjoy our acting, Easter songs and share the amazing work in our Learning Journals.
"I showed Mummy my book. She said Well done!" smiled Arthur.
On Wednesday we had great fun taking part in our Well-being day. We learnt why exercise is so good for our body and mind.
"I played Stuck in the Mud with Mrs Burgess. I felt hot after the game." recalled Esther.
We also learnt that a healthy diet such as eating 5 pieces of fruit or vegetables is so important too...
"We tried different food like wraps, we did a number five on our wraps." explained Betsy.
All of this was great fun but the highlight of our day had to be meeting the tallest man in the UK, Paul Sturgess!
"Paul is taller than Mrs Sheppard and Mrs Walker." said Bella.
"...even if they stood on a chair!" added Amber.
"He could spin a ball on his finger!" commented Lebo.