Nyewood CE
Infant School
Smiling, Caring and Learning Together on a Journey with God
Easter, New Life and a Fond Farewell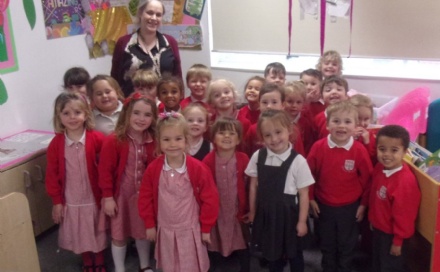 We hope you all enjoyed coming to our Easter Service at St Wilfrid's Church on Tuesday. For those of you unable to come, here is a picture of us practising the scene for Palm Sunday.
We each cut out our own palm leaf and waved them in church as "Jesus" rode by on the donkey.
Back in class we have been listening to the Easter Story and remembering the true meaning of Easter. We have also been thinking about signs of Spring and new life such as matching baby animals to their mothers.
This week Oscar had some very exciting news to share with us.
"My baby brother has been borned!" he told us.
We would like to send out our congratulations to Oscar and his family on the safe arrival of baby Rory, the first of many Holly Class babies to arrive this year!
This week has also been a sad one for our Holly Family as we said goodbye to Mrs Walker, who begins her maternity leave before the birth of her little one in May.
We would like to thank Mrs Walker for all her dedication, care and patience throughout the year so far, helping the children to develop into happy, independent, clever little learners. We wish her a restful few weeks and the safe arrival of Baby Walker sometime in the near future.
Watch this space for happy news next term!