Nyewood CE
Infant School
Smiling, Caring and Learning Together on a Journey with God
FEE, FI, FO, FUM!!!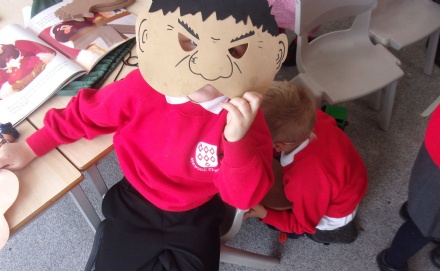 We have thoroughly enjoyed our Book of the Week - Jack and the Beanstalk. The children have reenacted the story using their own puppets, props and masks, and are now very confident in explaining the plot using story language.
"Once upon a time the was a little boy called Jack." Oscar recalled.
"There's a beanstalk. It grew from magic beans." said Jessica.
"FEE, FI, FO , FUM! That's what the giant says." explained Lilly.
The story got us in the mood for planting our own crops. In class we sprinkled cress seeds onto damp paper towels and have been carefully watching them change and grow.
A big thank you to Arthur's Mummy for donating some courgette plants which we have planted outside this week too.
In maths we have been learning to use a numberline to count on or back in order to solve addition and subtraction problems.
"We've been counting numbers on a counting caterpillar." said Eve.
"We jumped on a numberline with our finger. I did it quickly." exclaimed Isla proudly.
In other news...
We would like to say congratulations to Taylor and his family on the safe arrival of baby Hope this week. We know you are going to be a fantastic big brother Taylor!
Also our congratulations go to Bella's Mummy and Daddy who got married last weekend!
Our final piece of exciting news this week is that Mrs Walker's baby was born on the 28th April. A little girl called Mabel Beatrice Walker weighing in at 6lb 5oz.
Mum and baby are doing well and Mrs Walker sends her love to all of our Holly Class Family.