Nyewood CE
Infant School
Smiling, Caring and Learning Together on a Journey with God
Eid and the Environment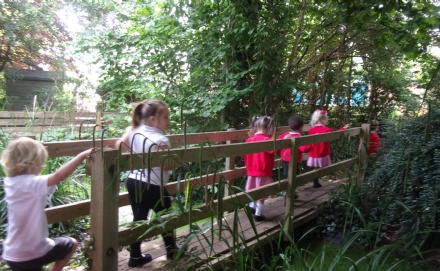 We managed to pack a lot into our first four days back after half term!
On Tuesday Year R spent the day exploring the festival of Eid...
"Eid is where you don't eat until it gets to Eid." explained Amber.
We had great fun creating Mendhi patterns on our hands.
On Wednesday we took part in World Environment Day. We went on a walk around our school grounds to spot nature and collect treasures.
When we got back to class we used these treasures to make playdough portraits.
We also enjoyed making bird feeders, earth art and a bug hotel.
As a class we thought about all the things we could do to help keep our world as God intended.
"Some animals died and now there are no more of them alive." said Abigail.
"We must put our rubbish in the bin to stop the animals getting tangled." suggested Jessica.
"...or we can turn the tap off when we've finished with it." added Lebo.
Look out for our class poster with more of our ideas for being eco-friendly!