Nyewood CE
Infant School
Smiling, Caring and Learning Together on a Journey with God
Special Visitors!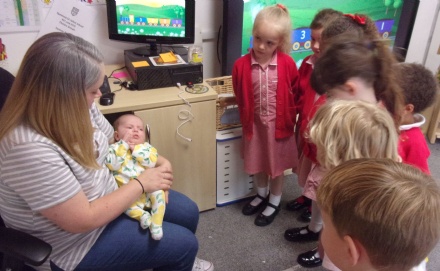 We were really excited to have our Dads (or other male role-models) in school on Tuesday. We had great fun showing them how we learn.
On Wednesday we had a very special surprise visitor. Mrs Walker came in to see us and introduced us to baby Mabel.
As part of our learning about changes in human beings, we asked Mrs Walker some questions about her baby:
Esther - How old is Mabel? 6 weeks old on Sunday.
Eve - What does Mabel do? Sleeps, cries, drinks milk, poos and wees. Then she repeats all of this.
Amber - How did you feel when baby Mabel came out of your tummy?
I felt really happy because she took a long time to grow in my tummy and it was lovely to meet her.
Lebo - Does she drink milk? She has formula out of a bottle and has it every few hours. She needs feeding many more times a day than you do. She has lots of little drinks and cannot eat proper food yet as she has no teeth.
Other news this week...
In Literacy we have been learning how to read and write 'Owl Words'. An owl word is a word that we cannot yet sound out using our Phonics. We have to look at the sequence of letters and the shape of the word and remember what the words says.
In Maths, we have been learning about 'sharing'. We have shared amounts of raisins out between our friends, making sure each of us has the same amount so that it is fair.