Nyewood CE
Infant School
Smiling, Caring and Learning Together on a Journey with God
A Blooming Marvellous Week!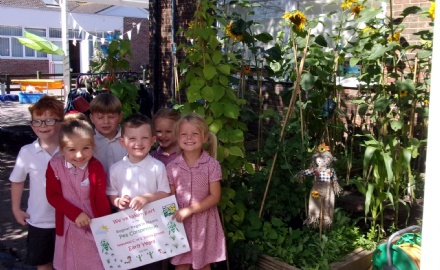 This week has super busy for the Holly Class family!
On Wednesday we spent the day as grown up Year One people when we visited our new classes.
"I was nervous but now I am happy because I made lots of new friends." said Bella.
"I was a little bit sad because I like my old class. I'm still a bit nervous but I like my new class too!" exclaimed Jessica.
"I was happy because I had my new teacher Mrs Mitchell. I love it because she is kind." Taylor said.
On Thursday, five visitors came from Bognor in Bloom to present us with a certificate for taking part in the town's pea growing competition. They will be judging the entries soon so watch this space!
On Friday we took part in our first school Sports Day. We were really proud of all the children who took part and kept going even if they found the activity tricky. Well done Holly Class!
As well as all of these new and exciting things we have managed to squeeze in some fantastic sentence writing too!
We also have been working on our pieces of artwork over the past two weeks, ready to be sold at the first ever Nyewood Gallery next Thursday. We hope that lots of you will be able to come and view our stunning creations and buy them for your homes. Here's a sneak peak at what is in store...