Nyewood CE
Infant School
Smiling, Caring and Learning Together on a Journey with God
Thanking God for Harvest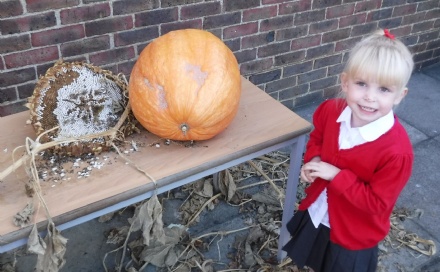 We have had a wonderful couple of weeks learning about Harvest! We have been reading the story 'The Enormous Turnip'and learning a song to go with this. Last week, we popped over to the Junior School to have a look at the amazing plants that they have grown...
"The sunflowers are MASSIVE!" exclaimed Jack.
"That is a really big pumpkin." Zekiah said.
"Those are runner beans." Jacob informed us.
Back at school we then made observational drawings and paintings of different fruit and vegetables.
We thanked God for giving us plenty of food and drink and thought about the people in our world who aren't lucky enough to have lots of food to eat.
" I have brought in biscuits (for the Harvest Service)." said Alexis.
"I brought pasta." added Jack.
We look forward to seeing you all at our Harvest Service on Monday in the school hall at 9:30am to share our Harvest work with you.