Nyewood CE
Infant School
Smiling, Caring and Learning Together on a Journey with God
Happy New Year from Holly Class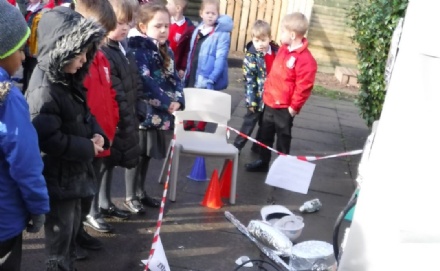 What a busy start to the year it has been! We have had such an exciting 3 weeks, we almost forgot to update you on here! We've had surprises, a special visitor and our first school trip!
First of all, we were very surprised to discover a rocket had crash landed on our playground.
"A rocket landed on our playground." Esmee.
"It has definitely crashed and everything has fallen out." Toby.
"We know it crashed because it had landed the other way." Noah.
"Maybe the engine had fallen out?" Jack.
"We were worried that aliens were walking around our school.".
"Luckily we haven't seen any…yet." Miss Chandler.
"The space girl came to see is at school and she told us all about space." Alexis.
"I loved wearing the costumes." Jack.
"It was good trying on a real life space helmet." Noah.
"I liked doing the space puzzle with my friends." Toby.
"We wrote thank you letters to our grown ups, thanking them for our Christmas gifts.".
"We went to the post office and posted letters to our grown ups." Conor.
"We walked very sensibly in our groups." Conor.
Thank you to all of the grown ups who came along to help us.
We are looking forward to more excitement next week starting with our whole school Stargazing event. We can't wait to see you there!