Nyewood CE
Infant School
Smiling, Caring and Learning Together on a Journey with God
Aliens Words, More/Fewer and Playing Shops!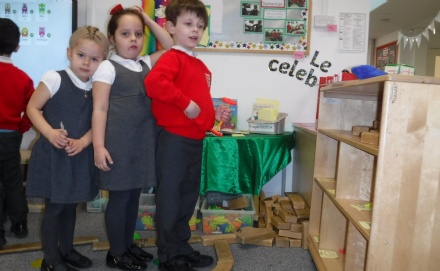 We've had another busy week in Holly Class with lots of super learning happening during our SIL (self-initiated learning).
In maths we have been getting our heads around some new vocabulary to compare amounts:
"More means the most. It's bigger." said Conor.
"Fewer means less." explained Joshua.
We have been using these words to compare groups of objects and we've even explored comparing the weights of these groups using balance scales.
This week in Literacy we have been using our phonics to decode unfamiliar words. Here we are using our skills to read alien names...
In our choosing time, some of us decided to make items such as glasses, weights, flowers and lollipops to sell in a pretend shop. We used our maths and literacy skills to write price tags and pay for the items we bought.