Nyewood CE
Infant School
Smiling, Caring and Learning Together on a Journey with God
Children in Need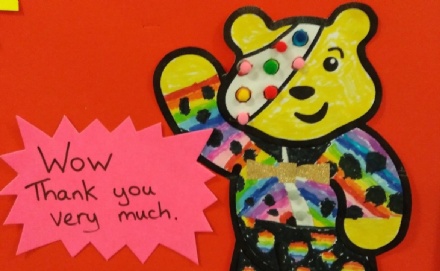 It's been another busy week in Holly Class! In Literacy we have been drawing and painting dragons and labelling their body parts using the sounds we have learnt in Phonics.
Milana described what a label is…. "To write what the things are."
"I painted a dragon. I had to do labelling on it." Bradley explained.
I writed 'wings' on mine and 'tail' too!" Grace C said proudly.
This week we took Star the dragon on a tour of our school so he could get used to where things are and meet some of our Nyewood family members.
"We showed him the Lego, the whole world (globe) and I found Dragon Land on it." J said.
Whilst on our tour we thought about words to describe position e.g. above, next to, in between, in front and behind. We followed Mrs Smart's instructions and put Star in different places.
"I went on the playground to show Star around. We went on the seesaw. I putted Star under the seesaw." Francesca.
On Friday we had a super day taking part in Children in Need.
"It's Pudsey day. We bought badges and bracelets and the money goes to children who don't have clothes, don't have food." explained Bailey.
We came into school dressed in spots and/or stripes.
"I'm wearing spots." said Max.
Even our poorly friend (above) got into the spirit when she came to collect her big brother from school in her spots and stripes! Get better soon!
Some of us chose to make our own Pudsey badges during SIL...
Some of us entered a competition to design a new outfit for Pudsey. A HUGE well done to this young man who won the competition from Holly Class! We are really proud of you and all who entered.