Nyewood CE
Infant School
Smiling, Caring and Learning Together on a Journey with God
Feelings!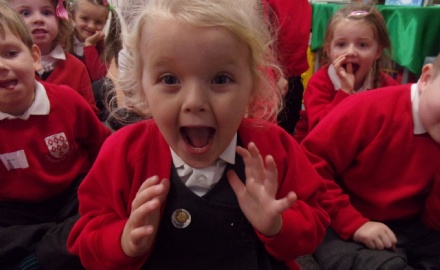 In Maths this week we have been showing Mrs Walker what we can do when it comes to reading numbers! Some of us have also been thinking about addition.
"I added numbers." said Grace L.
"5 add 5 is 10." said Toby.
"I did some number sentences 3 x 3 is 9." Bradley said.
This week we have been learning how to read people's feelings by looking at their face and body language. Can you guess how we are feeling in these pictures?
We have been thinking about what makes us feel certain feelings and how we can help each other to make things better if we feel bad. In class we now have a feelings register where we can move our name tags to tell each other how we are feeling.
"We be put on the wall. We put our name next to faces." explained Judah.
In Literacy we have been reading the story 'The Kiss that Missed'.
It is about a King who is always in a hurry and when he blew a kiss goodnight to the prince, it missed! It flew out of the window and the knight had to catch it. Along the way he meets lots of scary animals including a dragon! Ask us about how the story ends.
In PE we have been making up a dance about 'The Kiss that Missed' and thinking about how we can show the characters' feelings through our face and body movements.
"Our dance in PE is really good, super good." exclaimed Bradley.
"We sleeped when we were the Prince. We put our pyjamas on." Beth recalled.
"We were feeling sleepy and surprised." explained Francesca.
We look forward to seeing how our dance improves next week.