Nyewood CE
Infant School
Smiling, Caring and Learning Together on a Journey with God
What a Great Start to the New Year!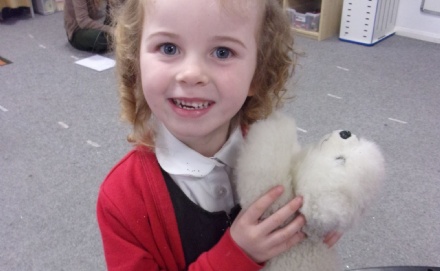 What a fantastic start we have had to the New Year in Holly Class! Last Friday Mr Richardson and Mrs Cobb taught us all about Epiphany during worship and we found out how it is celebrated in Spain (where Mr Richardson used to live and teach). During our lessons we had a visit from The Three Kings who gave out gifts of raisins to us just like the Spanish tradition.
We also had a look at some real life Frankincense and Myrrh and used our choosing time to act out the story of the king's arrival using small world.
This week our classroom was looking a bit chilly when we arrived on Monday morning.
"The writing corner has changed. It is now a snowflake cave!" said Beth.
Later that day Mrs Walker, Miss Brophy and Mrs Mouland took us outside on a bear hunt where we found a baby polar bear. We decided to call him Snowflake.
"We went on a hunt for Snowflake. We had to use good looking eyes and we found him in a tree!" recalled Grace C.
We have been bursting with excitement to find out more about polar bears and where they live ever since!
"We wanted to find out how big (tall) he was (in real life)" said Esme.
"Mrs Walker helped us to find out how big polar bears are. We used measures to make the polar bear how big he really was. It was 3m tall". explained Freddie and Bradley.
To find out what 3m actually looks like, we measured out and drew a polar bear standing on it's back legs.
"It goes up the wall and onto the roof!" exclaimed W.
Please pop into class on Tuesday morning 9-9:15 to join in with maths games, meet Snowflake and take a look at our life size polar bear drawing!