Nyewood CE
Infant School
Smiling, Caring and Learning Together on a Journey with God
Art, Dance and Creative Thinking!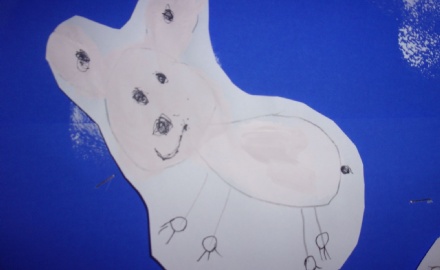 Over the last two weeks we have continued to learn more about Snowflake the polar bear by watching clips from the BBC's Snow Bears programme which can be found on BBC iplayer. We have also been using the internet and looking at information books to find out polar bear facts. Did you know that a polar bear's fur is actually translucent not white?!
Miss Brophy taught us how to create a labelled diagram for a polar bear.
"She teached us to write labels next to the arrows." Francesca explained.
In PE we moved our bodies in the same way as polar bears. Can you guess what we are doing in these pictures?
​
Mrs Walker taught us how to draw a careful picture of a polar bear. Look at our amazing artwork!
Some of us became real life scientists this week and conducted our own icy experiments! An explorer called Reginald Longthorne emailed us to say that he had managed to get his glacier goggles and crampons stuck in a block of ice. We set to work thinking about how we could get them out and our ideas ranged from using hammers and drills to hairdryers and hobs. We interviewed Mr Harvey about how to use this equipment safely.
Then, under the watchful eye of Mrs Smart, Mr Harvey and Mrs Cobb, we conducted the experiments.
Stay tuned next week to find out the results!