Nyewood CE
Infant School
Smiling, Caring and Learning Together on a Journey with God
How has this week measured up for Holly Class?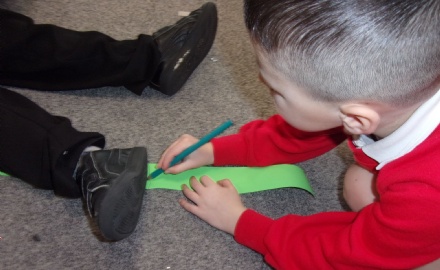 This week we have been learning to use the computer to draw a picture and add a title.
"Miss Brophy was drawing a polar bear. She showed us how to do it." said Matilda.
"We drawed all around it the water. We used our finger to click the blue paintbrush." explained W.
"We pressed the 'abc' button to type." said Edward.
In RE we have been learning about Noah's Ark.
"All the boys and ladies fighted. God taked his beautiful world away." explained Milana.
"He made it rain. The whole world flooded." said Alfie.
"Noah builded an Ark for the animals." recalled Bailey.
"God stopped it and the rain went away and he sent a rainbow for a promise. He promised to make the flood never come back!" explained Matilda.
In Maths we have been measuring our height using strips of paper and comparing who is the tallest/shortest.
"Me and W are the same size." said Cooper.
"I thought Kacy was the tallest and I was right!" said Esme proudly.