Nyewood CE
Infant School
Smiling, Caring and Learning Together on a Journey with God
Happy Half Term and Happy New Year (Chinese style!)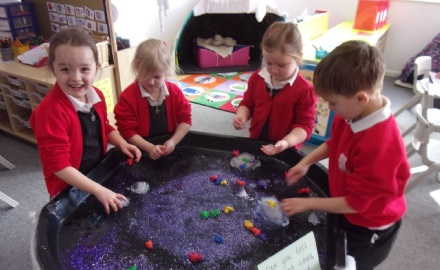 This week we started our new whole school reading reward scheme and many of us got some stamps on our charts. A big well done to the four children (and their families) who got their first shiny star sticker today!
"In our reading diaries we've got sheets that you can put stamps in." explained Grace C.
At the beginning of the week we had a special visitor come in to Holly Class to see how fabulous we are at sharing our RE learning. He was very impressed with us!
"We have been learning about Noah's Ark." Edward told him.
We also had some fun trying to get our toy animals out of blocks of ice this week.
"We had blocks of ice out and we had to melt them to get the animals out." said Francesca.
On Friday we took part in lots of different activities to help us find out about Chinese New Year and how it is celebrated. We made Chinese lanterns, New Year cards, tried to pick up noodles with chop sticks, and even learned how to write our names and numbers 1-10 in Chinese!
"This year is the year of the dog." Matilda told us.
The children have listened carefully to the story about how the Chinese zodiac was formed so please ask them to tell you the story about the naughty rat! We found that if we were born in 2012 we were born in the year of the dragon and if we were born in 2013 then we were born in the year of the snake.